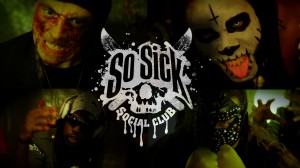 BUY SONG HERE!!!: http://itunes.apple.com/ca/album/sweet-nothing-reel-wolf-remix/id495255064?i=…
Reel Wolf Presents:
"Sweet Nothing"
So Sick Social Club feat. Onyx, Psych Ward, Bishop Brigante, Tom Savini & Louie Rankin (Ox from Belly)
Directed by: Tom Vujcic
Produced by: James Martin
First A.D.: Mark Cira
Cinematography: Dave Stuart & Matt Cree
Executive Producers: Amir Radi & Graph Wize
Associate Producer: Sandra Alcocer
Color Corrext/VFX: Dave Cadiz
Make-UP FX: Mitchell Stacey (Inde FX Studios)
Outro Beat by: Sentury Status
The video, which has been called a "horror hip hop opera" fuses hardcore hip hop, hard rock riffs, melodic horror-pop choruses, a gruesome storyline and blood drenched visuals to create "Sweet Nothing".
"Sweet Nothing" is available on DEAD FRIENDS DON'T TELL coming out this year under Reel Wolf Records. The album features multiple guest appearances including Onyx, Necro, Hopsin, Slaine of La Coka Nostra & more
"Sweet Nothing (Reel Wolf Remix) featuring Onyx, Psych Ward & Bishop Brigante will be available for online purchase along with the "Sweet Nothing (Sick Metal Remix) featuring Canadian metal act Slaves on Dope.